Trike Rally Rochdale - 1977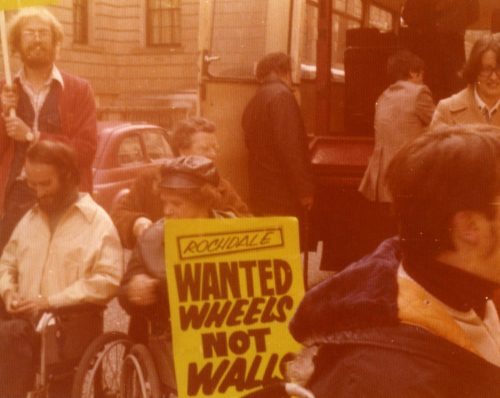 About
In the 1970s the Invalid Trike (affectionately known as the Noddy Car) was the main form of adapted transport offered to wheelchair users through a government-funded scheme. This rally was in protest against the government's decision to withdraw all trikes from service and replace the scheme with a new mobility allowance.
This photo is taken outside Rochdale Town Hall. The wheelchair user on the left is Ken Lumb.
Description
A colour photo, with an orange tint.
There is a group of 8 people outside a grand, Victorian-looking building. Two are wheelchair users. A person in the centre of the photo is holding a large placard saying 'Rochdale Wanted Wheels Not Walls' in block capitals.