3 Audio Cassette Tapes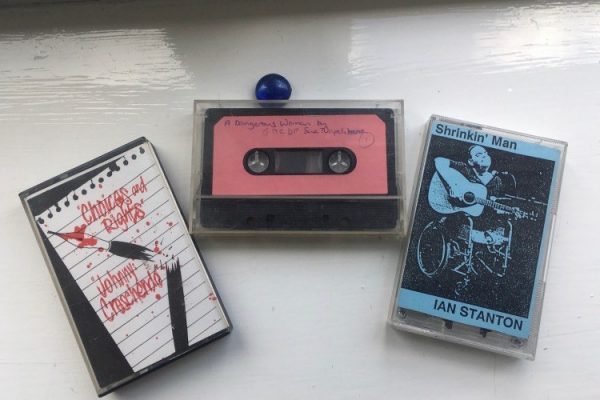 About
These three audio cassette tapes are from the 1990s.
Go to audio to hear a sample of Sue Napolitano and Ian Stanton.
The cassette tapes are, from left to right:
'Choices and Rights', music by Johnny Crescendo.
'A Dangerous Woman', poetry by Sue Napolitano.
'Shrinkin' Man', music by Ian Stanton.
Description
A colour photo of 3 audio cassette tapes, described left to right.
The cover of the first cassette has a black background. Top left is 'Choices and Rights in red hand writing style font. Under this is a snapped fountain pen. Below are the words Johnny Crescendo in red block capitals. To the right, at a slant, is a piece of lined paper with torn perforations at the top. There is red ink splattered across the page.
The middle cassette is in a clear plastic case. A hand-written label on the tape says 'A Dangerous Woman by GMCDP Sue Napolitano'.
The cassette on the right has a blue cover. The words 'Shrinkin' Man' are at the top and 'Ian Stanton' in block capitals at the bottom. In the middle is a photo of Ian Stanton sitting in his wheelchair playing a guitar.