Flyer: Young Disabled Women's Day – 1995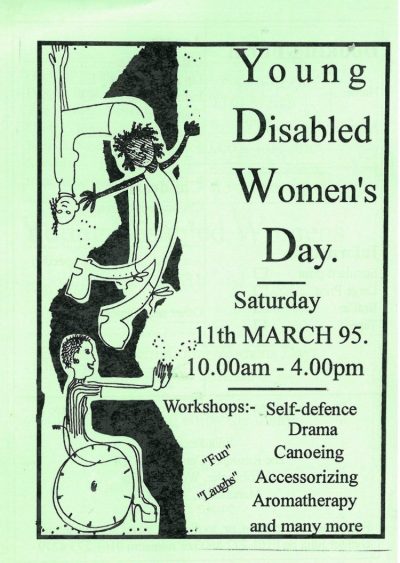 About
This flyer promotes an event for young disabled women to coincide with International Women's Day in 1995. The event was being organised by Greater Manchester Coalition of Disabled People, which has prioritised dedicated work with young disabled people since 1990.
Description
This portrait oriented A5 flyer is printed in black on green paper. There is a black border.
On the left is a stylised hand-drawn image of three young women, one of whom is a wheelchair user.
On the right it says: "Young Disabled Women's Day. Saturday 11th March 95. 10.00am - 4.00pm. Workshops:- Self-defence, Drama, Canoeing, Accessorizing, Aromatherapy and many more. 'March' is in block capitals.
The words "Fun" and 'Laughs" are between the image and text.