BCODP Day of Action, London - 1988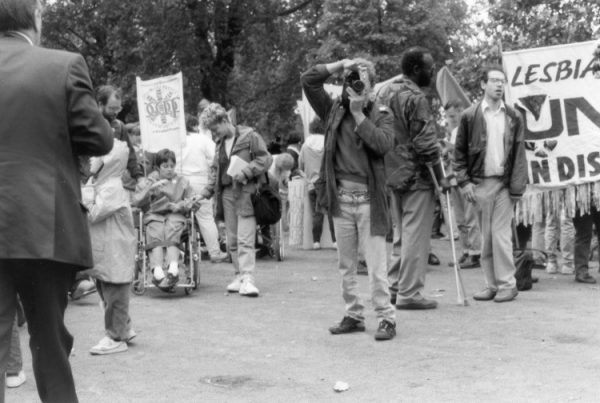 About
This day of action was called by the British Council of Organisations of Disabled People (BCODP). It took place in London. Over 1,200 people protested against cuts proposed in the Social Security Act (1988). This photo is from the beginning of the day of action in Kennington Park. People then moved on to the head office of the Department for Health and Social Security (DHSS) in the Elephant and Castle area of London. Known people on the photo: Keith Stephens and Paul Mittler.
Description
A black and white photo. There is a large number of people in a park.
Left of centre is a wheelchair user with a small banner attached to their wheelchair. It has the words 'British Council' and 'Of Disabled People'. Between the two lines of writing is a circle. On the outside of the circle it says Disabled People's International. The letters B C O D P are in the middle with a partially obscured symbol below them.
In the centre of the photo is a man holding a camera to his face, facing forwards.
To the right of centre are Keith Stephens and Paul Mittler.
On the far right is a banner with the visible letters 'lesbia un n dis' in very large writing. Above the u is a triangle, under the u are 3 shapes. The banner has tassels at the bottom.