Independence Festival 1998 ticket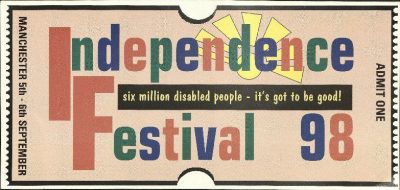 About
The Independence Festivals were annual national events from 1997 to 2001 celebrating disabled people's lives and culture. The first 3 were held in Manchester, followed by Birmingham in 2000 and Leeds in 2001. The festivals in Manchester were held in Albert Square and the Town Hall. They were made up of an outside daytime event with a stage for performance, market stalls for organisations and workshops, followed by an indoors evening performance
Image description
Front: Orange ticket with sun symbol that reads "Independence Festival '98, six million disabled people - it's got to be good! Manchester 5th-6th September. Admit One."
Back: "Independence Festival '98.
Following the first Independence Festival last year, a bigger, bolder and better festival is planned for 1998.
Watch this space for more details on what will be happening on Saturday at the outdoor festival, Saturday night at the cabaret/party and how to experience Manchester on the Sunday.
Put the date in your diary and let your regional office know if you want to be sent more info…
IF 98 Offices:
NWest: PO Box 532, Manchester, Town Hall, Manchester M60 2IA. 0161 234 3160 tel/minicom.
NEast: Tyneside Disability Arts, Buddle Arts Centre, 258b Station Road, Tyne & Wear, NE28 8RH. 0191 200 7267.
Midlands: WMDAF, The Custard Factory, Gibb Street, Birmingham, B9 4AA. 0121 242 2248.
Wales: Arts Disability Wales, Chapter Art Centre, Market Rd, Cardiff, CF5 1QE. 01222 377885.
South: Disability Arts Agency, Leinster Avenue, Bristol, BS1 1AR. 01179 839839.
If you want to be involved in IF98 any other way please contact the North West Office.
Manchester 5th-6th September.
Designed by: Brian Hilton."