Manchester Town Hall step free link bridge, late 1980s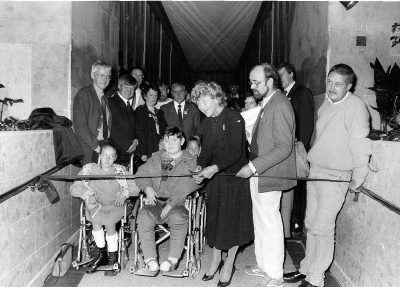 About
In the late 1980s the Disabled People's Steering Group (made of Disabled People's Organisations active in the City of Manchester) prioritised accessibility to the key civic buildings in the City especially the Town Hall and Central Library. This showed that even listed buildings of architectural significance could be adapted. It also opened up employment opportunities in support of the council's drive to deliver an inclusive, diverse workforce.
This was an important landmark in the declared intention to make Manchester the most accessible city in the UK.
The photo includes Bernard Leach (chair of Disabled People's Steering Group) and Councillor John Clegg (chair of Equal Opportunities Committee).
Image Description
Black and white photo of a group of people on the Manchester Town Hall link bridge including two children in wheelchairs at the front. A woman cuts a ribbon across the hallway.