Postcard: I'm not special, Independence Festival 1997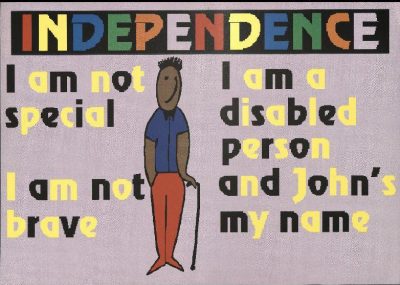 About
This postcard is one of a set of four designed by Brian Hilton and produced for the Independence Festival held in Manchester in 1997.
Image Description
The postcard is landscape A6 size with a lilac background.
Across the top is black shading with the word 'independence' in multi-coloured block capitals.
In the middle of the postcard is a cartoon style drawing of a person of colour with a walking stick. Words are on either side of the drawing in alternate black and yellow letters.
Text on left "I am not special. I am not brave."
Text on right "I am a disabled person and John's my name."