Postcard: Mum and Dad have Learning Disabilities, Are We Taking the Dis?, 2005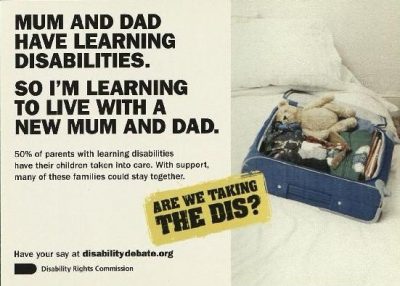 About
The Disability Rights Commission ran the 'Are we taking the dis?' campaign in 2005 to raise awareness of discrimination against disabled people. The national campaign ran for 6 weeks and cost £1.2million. The Disability Rights Commission website received 535% more hits because of the campaign.
Image description
Left side reads "Mum and Dad have learning disabilities. So I'm learning to live with a new mum and dad. 50% of parents with learning disabilities have their children taken into care. With support, many of these families could stay together."
Underneath is a yellow logo that reads "Are we taking the dis?"
Bottom right text reads "Have your say at disabilitydebate.org" and "Disability Rights Commission".
Right side is an image of a blue suitcase filled with a child's clothes and a teddy bear.
References
IPA | Disability Rights Commission: Are we taking the Dis?
DRC chief attacks lazy attitude over disability - Personnel Today