Postcard: No love...you want next door, Disabled Lesbian Group, 2002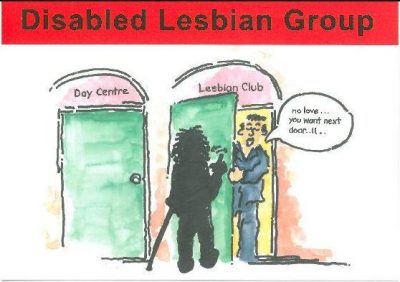 About
In the early 2000s, a group of disabled lesbian and bisexual women regularly met in Manchester.
They gained funding in 2002 to run workshops looking at the experiences of disabled lesbian and bisexual women. From these workshops a set of 4 postcards was created.
This postcard is one of the set.
Image Description
A cartoon postcard with a red banner labelled 'Disabled Lesbian Group' at the top and two green doors, one on the right labelled 'Lesbian Club' and on the left labelled 'Day Centre'. A silhouetted figure with a cane approaches the 'Lesbian Club' door and is stopped by a man in a blue suit. He says "No love… you want next door".