Poster: Sign Language Interpreting Service, South Africa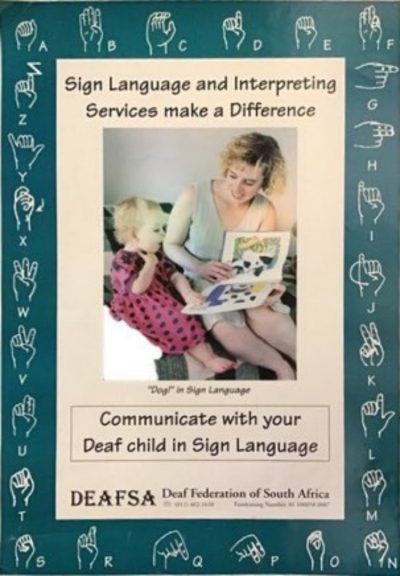 About
This is a poster from South Africa advertising a Sign Language Interpreting Service. It was produced by the Deaf Federation of South Africa. It may have arrived in the UK when two young women from Greater Manchester Coalition of Disabled People visited South Africa in 1997.
Catalogue: GB124.G.GMCDP/15/16.
Description
A colour, portrait oriented A2 poster. Around the edge of the poster is a thick green border. Within the border are from top to bottom.
All the hand signs of the South African Sign Language Alphabet.
'Sign Language Interpreting Services Make a Difference".
A colour portrait photograph of a woman in a green top holding a book. A young child in a pink dress is sitting next to the woman and signing.
The words 'Dog in Sign Language', in italics.
'Communicate with your child in Sign Language" is written with a thick boarder around.
"DEAFSA" Deaf Federation of South Africa".
The phone numbers at the bottom are not readable.